Tripawds is a user-supported community. Thank you for your support!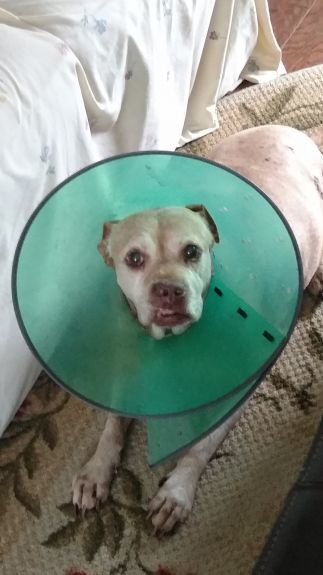 First blog on my 12 year old gal, Staffordshire Bull Terrier, diagnosis a month ago of baseball size hemangiomasarcoma. One week post rear leg amputation as of today. Doing much better, but it has been a long recovery week, specifically no desire to eat. Appetite coming back slowly now since Fentanyl patch removed, cut back on Tramadol and Gabapentin, did get an appetite stimulant, mirtazipine too. Otherwise, Sugar is coming along every day mobility wise pretty good.
We are happy to be here with others and will blog much. Sugar is currently tumor free any where else in her body, that tests, MRI, etc. can show, but due to her type of diagnosis of intramuscular Hemangiosarcoma, we are here to learn, fight this, help others.
Melissa and Sugar